For athletes
Special gel of new generation
A practical small packaging you can take everywhere to have help available at any time.
I'm interested in Hamaviss gel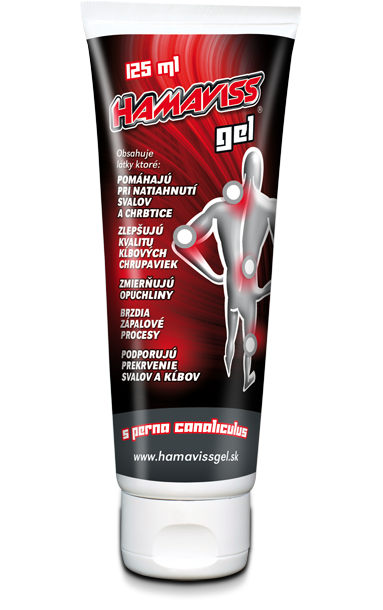 What is the HAMAVISS gel?
A special gel of new generation, the only one in Slovakia containing PERNA CANLICULUS (The New Zealand green-lipped mussel). In addition, it contains highly quality Glycosaminoglycans GAG. The gel has a pleasant cooling effect, which takes effect immediately after application. It relaxes the muscles, tendons and joints. Then after a few minutes the gel starts to warm up the treated area. Thanks to the combination of active ingredients the resilience is very intense.
All about PERNA CANALICULUS
What is the HAMAVISS gel used for?
to promote blood circulation and to regenerate muscles and joints
to reduce swelling
to improve joint mobility and the quality of cartilages
to help with strained muscles
to sooth muscle soreness
before sport activities to warm up the muscles and improve blood circulation in muscles
after sport activities to provide treatment and recovery to tired muscles
Who is the HAMAVISS gel for?
It can be used by all age groups including schoolchildren, active sportsmen or senior citizens. Before first use always read the instructions, warning and ingredients!
How to use HAMAVISS gel?
Massage HAMAVISS gel three times a day to a particular skin area such as the neck, the shoulders, the back, the elbows, the knees, the hands, the legs or the feet.
Advantages of using HAMAVISS gel:
absorbs immediately
does not leave a greasy film
pleasant smell